Like a good book, or life, overlanding is about the journey more than the destination! It's about savoring the beauty of the places you pass by, embracing the thrill of conquering a difficult trail, or relishing the camaraderie of fellow explorers and the memories you make along the way. It's these moments that come together to form your story. So join us as we share our journey and explain how you can be an EveryLander!
Debunking Myths: Why Overlanding Is For Everyone
If you're a first-time adventurer, you may have heard some overlanding myths; but, don't let them discourage you! Let's dispel these myths and learn the facts about overlanding.
Overlanding is only for the rich
Images of high-end trucks and top-of-the-line gear create an impression that overlanding is expensive. Overlanding is simply going on a 'vehicle adventure'. All you need is a vehicle and the basics (tent or back seat, sleeping bag, food, etc.) to go on an overlanding adventure! 
If you want to get more adventurous, and have all the great gear, investing in quality gear is a good idea. Simply start with the essentials and gradually upgrade over time. You can also borrow or rent equipment to get started. Many outdoor activities associated with overlanding, such as camping, hiking, fishing, kayaking, and mountain biking, are free or low cost. As Henry David Thoreau said, "All good things are wild and free."
Overlanding requires a 4WD vehicle and primitive camping
People often connect overlanding with fully outfitted off-road trucks. While high clearance 4WD vehicles are often needed for advanced trails, there are many destinations that are easily accessible by sedans and vans. Car camping is simple and requires little preparation, and you can retrofit a cargo van or Sprinter for the ultimate camping experience. You have the option of roughing it on a secluded trail or finding a family-friendly campground with plenty of amenities. Don't be fooled by off-road image of overlanding. Whether you're going for a weekend getaway to hike, fish, hunt, ride, etc., or even just taking the kids to a weekend sports tournament, the gear for overlanding can be accommodated to any vehicle. Heck, almost 40% of overlanders ground camp, so you don't need the fancy roof top tent!
Overlanding is dangerous and scary
We prefer the word "exciting" to describe it. Every adventure will get your heart rate up, but fear is just your body telling you to be prepared. The success and safety of your trip, like any other, are heavily reliant on careful planning and preparation. For example, relying on navigational tools and technology to explore routes can make any traveler's life easier. Having the proper recovery gear and emergency supplies on hand helps ensure that you stay safe. Overlanding is fun, if you are always prepared. 
Unleash Your Adventurous Spirit: How To Create Your Own Journey
Now that you know the truth about overlanding, let's talk about how to plan your next adventure.
Just do it!
It is simple to plan a trip that ticks all of your boxes. There are many planning resources and forums available online, or reach out to our adventure sherpas for expert advice. 
Choose your journey
Overlanding is accessible to anyone, regardless of background, experience, or skill level. Choose a bucket-list destination that you've always wanted to visit. Test your rig on a rock crawling expedition, or take the family lakeside for some fishing and hiking. Discover the picture perfect spot for your campsite and savor the moments spent around the campfire. Overlanding is more than just a quick weekend getaway; it's a lifestyle. 
Plan your itinerary
Once you've decided where you're going, you'll want to make sure your vehicle is in good working order and capable of getting you there. Plan your route and draft a schedule. Identify stores and gas stations along your route to restock supplies. Use maps, navigational devices, and online apps for support. Satellite phones, radios, and trackers can also be useful, particularly if traveling in groups.
Prepare your gear
The gear you'll need will be determined by where you're going and how long you'll be there. At a minimum, pack the essentials: a tent, recovery gear, safety equipment, fuel, water, a power source, and cooking/food supplies. If you cannot restock along the way, you must bring enough fuel, water, and food to last the entire trip. With limited storage space, staying organized is a top priority. We like to make a checklist and bring only what is necessary. To save space, mount your bikes, kayaks, and other items using rack accessories and carriers.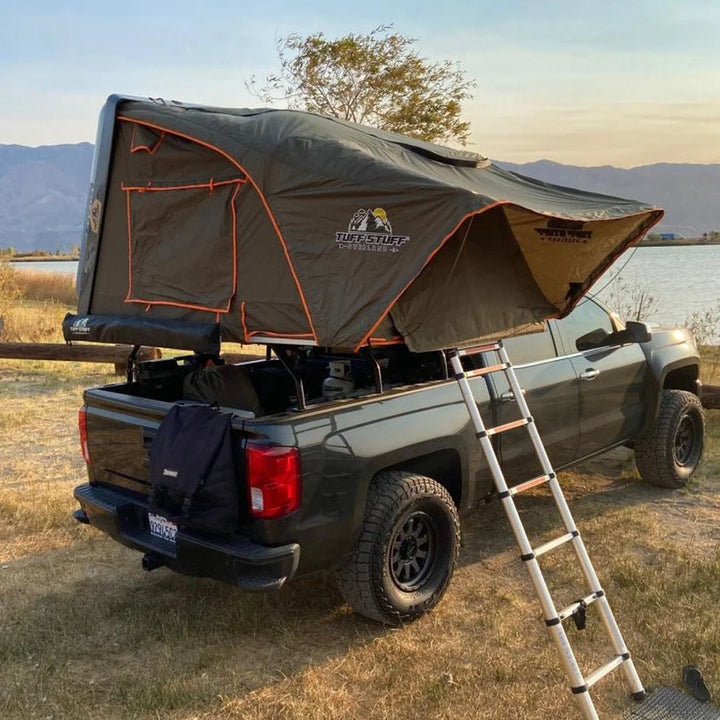 Know the basics of overlanding
While you don't need to be an expert, having a fundamental understanding of overlanding can be an advantage. You can, for example, master certain driving and recovery tactics or keep up to date on safety standards. A simple online search will yield a plethora of sites and forums with a wealth of knowledge. Our sherpa blogs are another excellent resource!
Leave no trace
Last but not least, be responsible. Leave no trace. Pack out all trash, waste and litter. Respect the wildlife, your fellow travelers, and local regulations. Be mindful of your activities and use eco-friendly and sustainable supplies when possible. 
So, What's Your Journey?
As you can see, overland travel can take various forms. It is unique to each traveler and lifestyle. Choose your journey and enjoy the ride. Ready to get started? Join our community of EveryLanders, a place for every overlander to learn, share, support, and achieve their goals.