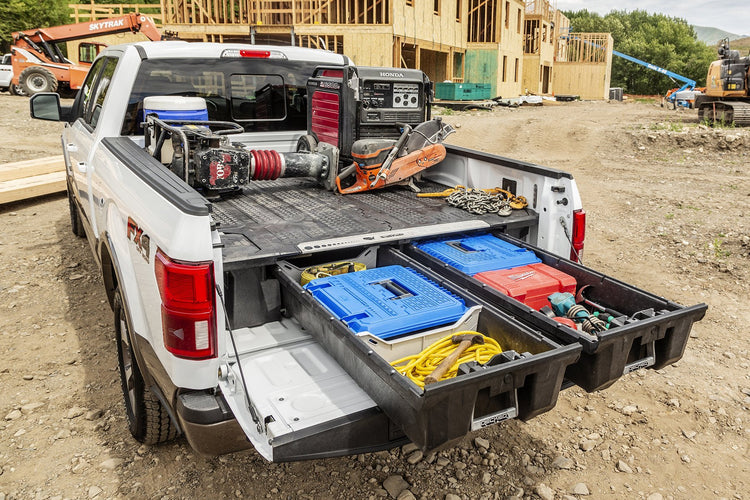 Decked
Organize and access your tools and gear with the toughest, most durable, secure and weatherproof truck bed storage system on the market from DECKED.  Get rid of the random tubs and bins, get the jumper cables out from under the back seat, stop shoving the duct tape from where it rolled. End the junk show with segmented storage.
Your truck ain't a man purse. It hauls heavy stuff like cement, plywood, ATV/Moto's, your mother-in-law's new freezer. You can stack 2000 lbs of big stuff on top of the deck and still have access to smooth rolling storage.  Anything falling from the sky can't get into your drawers. Period. They're not Tupperware-tight, airborne particulate like dust or mist can make its way into the drawers.
DECKED's two full bed-length drawers keep your tools and gear secure, out of sight and out of mind. Lock your tailgate and lock your drawers. Your essentials are in a mobile Fort Knox.  Take a look at their modern toolbox for pickup trucks. It's tough as nails and nearly impossible to dent, ding or rust. Super Secure. Waterproof.
Use left/right arrows to navigate the slideshow or swipe left/right if using a mobile device